| | | |
| --- | --- | --- |
| | Art Gallery of Silverware 18th, 19th and 20th Century | |
A Selection of antique items from Private Collections in Europe and around the world
Quick Facts: Silver Purity: Solid Silver 800/1000 - Purpose: Antique Swiss Cutlery / Flatware Canteen, 24 pieces for Dinner - suitable for 6 Persons, in an old Storage Box - Dimensions: see list below - Maker & Age: Pattern Fiddle & Tread, made in Switzerland around 1890 - Condition: light wear from age and use, Spoons & Forks have no monogram on Front side (calligraphic Art Nouveau Monogram is on back) - Assay Marks: 800 (for 800 Standard solid Silver) and a Star Hallmark for the Maker on the knifes - Private Collection, New York, USA

This Pattern came up in France during the 18th Century and in the 19th Century it became the most popular Flatware Design in the Old World. It was also made in a similar style in the United Kingdom (and occasionally in America) - especially in the late 18th and early 19th Century - but after 1830 and in Victorian times the heavily decorated patterns (eg. King`s Pattern) became more popular among the British. Today this Design represents the typical Classic and Elegant Flatware in Continental Europe (eg. France, Switzerland and Germany). This is a one-family-owned Set which has been carefully preserved and is complete. It was executed in heavy weight (eg. one table fork is 77 grams or 2 1/2 ounces) and double-struck (design is on front and back).

Antique Flatware Set
Switzerland, circa 1890

* Antique hand-chased Solid Swiss & German Silver 800 (800/1000) *
This canteen / set of 24 pieces for 6 Persons contains the following items:
6 Dinner Table Forks (Swiss - 21 cm or 8 1/4 in.)
6 Dinner Table Spoons (Swiss - 21,5 cm or 8 1/2 in.)
6 Dinner Table Knifes (Swiss - 26 cm or 10 1/4 inch, with carbon Steel blades and Hollow Solid Silver Handles)
6 Coffee Spoons (German - 14,8 cm or nearly 6 in.)
1 old Storage Box for the complete Set
Total weight including knifes is ca. 1580 gr ( about 51 Ounces) - Silver weight is ca. 1133 gr. (about 36 1/2 ounces). These items have been cleaned and polished (by hand), but a few dark age spots might be still visible as well as some scratches from use - as usual with Antique Silverware. One knife shows a dent on the handle. Blades of Knifes show signs of use, but are still quite good for their age. In contrast to Stainless Steel blades these Carbon Steel Blades can be sharpened. This is why several leading Silversmiths still today use Carbon Blades for their new Flatware. Tines of Forks are very good for the age with little wear only. The surface of the Forks and Spoons show a bright "Butler Luster" which can only be achieved with careful cleaning by hand over a period of more than a century.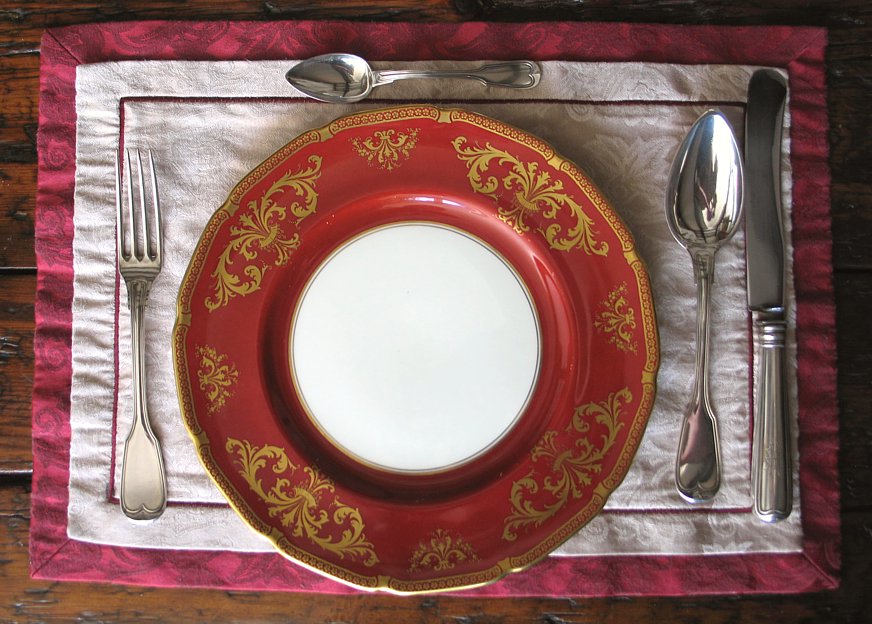 Antique Swiss Solid Silver Flatware Set for 6 Persons with Cutlery Box - Go back to the page Silver for Sale -
See here the usual fashion how the table is set - the spoons and forks show no monogram on the front side.
Presented by the FineArtEmporium in Hamburg.


Following more photos are shown:


The more sharp-ending Bowl Form at the Table and Coffee Spoons is a typical feature of 19th Century European Silver Flatware, in the 20th Century the Bowls became more round.
The pieces have a calligraphic decorated (unreadable) monogramm on the backside as it was traditionally done in France and the french-speaking parts of Switzerland so if you set your table in the usual fashion - as in America, England, Germany, Scandinavia etc. - with the tines UP the monograms will NOT show (see larger other photo with the plate below). If you set a French style table with tines of forks and bowls of spoons turned down (see photo above) the monogram will be visible. The knifes show it at both settings. Please note here also the well done double-struck execution.


*
*
The left photo shows the Silver hallmark, the center photo is of the cardboard Storage Box and the left photo is of an enlarged handle.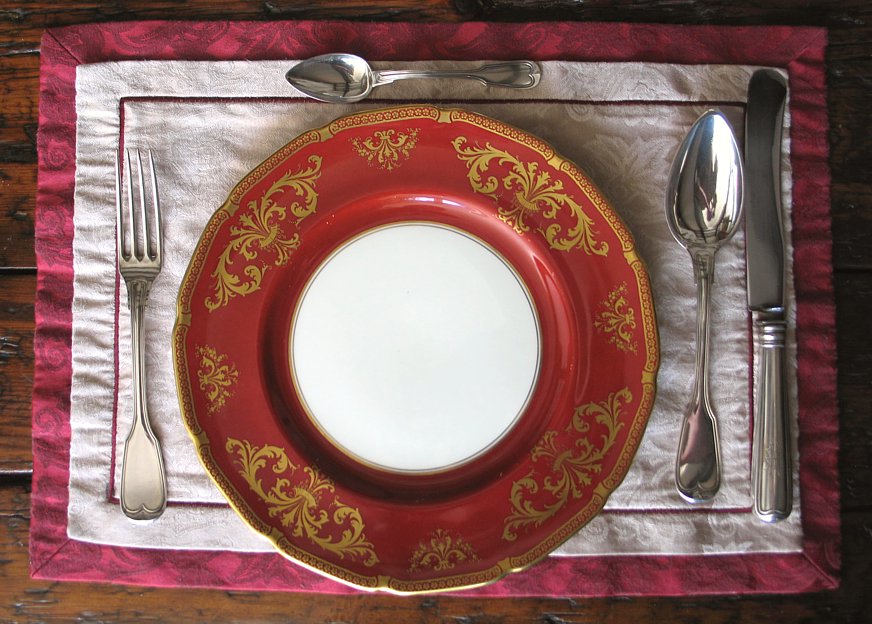 In German: Komplettes Silberbesteck (Massiv-Silber 800 er) Augsburger Faden aus der Schweiz und Deutschland, um 1890 - für 6 Personen komplett mit altem Besteckkasten.