Silver Purity: Germany, 800/1000 - Purpose: an antique, heavy Presentation Spoon (often given for Marriage) with red Cabouchon Stone on handle

Dimensions & Execution: length is 22 cm (8 1/2 in) - made of solid silver with an impressive weight of 82 grams (2.64 oz), executed in an typical Art Nouveau Design - Maker & Age: made by Josef Reiner (est. 1874 in Bavaria) around 1895 - Condition: only light traces of use, otherwise good condition, decorated with an Art Nouveau monogram (unreadable) - Assay Marks: Half Moon, Crown, 800, Maker`s Sign + Retailer`s Sign by E. Netterrol

Export Price (incl. s&h): sold - refer to Marriage Spoon Reiner

Marriage Gift Spoon -
J. Reiner, ca. 1895

Photo Copyright is with us - offered subject to prior sale by: Karsten Buchholz KG, Germany *
| | | |
| --- | --- | --- |
| Price: USA / Canada / World (including airmail shipment) | EU Europe (including airmail shipment) | Germany - Deutschland |
| sold (convert to your Currency) | on request only | on request only |
Please note that our Price is All Inclusive (Packing, Shipment and Receipt with Guarantee about solid Silver) - Verkauf in Deutschland / Europa nur an Gewerbetreibende und Freiberufler. Es gelten die Bestimmungen des Handelsgesetzbuches.
Presented by the FineArtEmporium in Hamburg.
Following more photos are shown:
*
*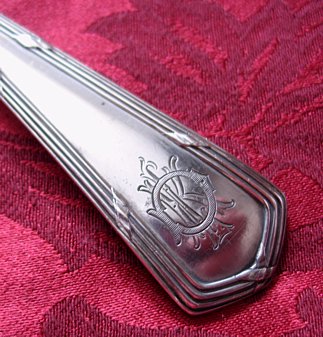 *
*
Any questions are welcome, please send your e-mail to: bais(at)gmx.de - This description has been written by Mr. Karsten Buchholz. We are also available at the phone from the USA at 01149-4104-694710 and from Europe at 0049-4104-694710 or from Germany at 04104-694710. As always, this offer is subject to prior sale. All trademarks are owned by the companies mentioned or their followers.
For Germany: Die Mehrwertsteuer wird ausgewiesen und kann bei der Anschaffung als Büro- oder Geschäftsausstattung bzw. beim Kauf als Handelsware oder für den Export als Vorsteuer abgesetzt werden. Bei Fragen bitte Email oder anrufen (Tel. 04104-694710).
All rights regarding trademarks mentioned are owned by the Companies. We do not represent this/these company(ies), this is a preowned and vintage / antique item.