| | | |
| --- | --- | --- |
| | Art Gallery of Old Ship Portraits and Marine Paintings | |
Reginald Arthur Borstel (Australian, 1875-1922) - Ship Portrait of the British full-rigged ship *Cressington* in the Pacific Ocean, ca. 1905 - the ship is shown on the high sea with the Australian coastline in the distance - Oil on board, 46 by 59 cm (18 by 23 1/2 inch), with frame 59 x 72 cm (23 by 28 1/2 inch) - inscribed on the bow with the ship`s name - cleaned, small repair in the sky, good condition, new varnish, period frame - Company Collection, Europe

Note: Although steamers were already used in this period for most maritime transports it was more economic to use for the trade to South America (West coast) and Australia sailing vessels. This period was the Golden Age of the so called "Windjammer" sailing ships. The Cressington is one of these large vessels and it can be supposed that it was used for the Wool Trade from Australia to Great Britain.
Presented by the FineArtEmporium in Hamburg.

This painting is executed in light and friendly colors. The painting and frame show normal age signs:
Yes, the ship has a white painting figurehead, supposed to be a female figure.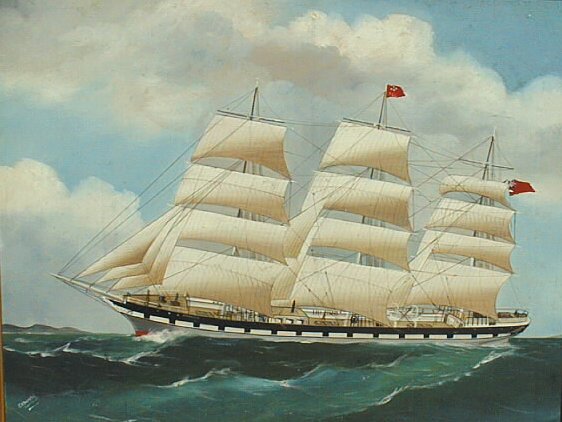 *
.****.
It should be noted on this occasion, that an expert for ship portraits will see some weakness in the handling of some details on board. This execution has been considered when the price was set. Indeed it is a typically ship portrait of an attractive full-rigged ship with a three color hull (grey-white-black) and in its appearance a really decorative and good example of one of the "blue water" (overseas) Windjammer Traders. This painting has been cleaned and it is ready to hang it on the wall. Anyway it does show minor imperfections, as usual and often seen with antique artwork (please see photos). It might be an interesting choice to decorate an entrance hall, a library room or as part of the decoration of a large living room. It is also a nice painting for someone interested in the Pacific Trade of the Windjammer days.