| | | |
| --- | --- | --- |
| | Examples of Nautical and Maritime Antiques for Research and Education | |
Copeland Parian Porcelain Bust of Admiral Horatio Nelson, England ca. 1865 – showing the British Sea Hero with the honor medal "Nile, 1. August 1798", made of parian porcelain (finely executed) on a wooden socket - 12 1/2 inch (32 cm) cm high - signed/impressed with the mark of Copeland on reverse - one small repair at the left collar edge, otherwise good condition - Maritime Museum Collection, USA

Note: Copeland was the mayor manufacturer of fine quality Parian Porcelain Busts in Victorian England. The Maritime Museum in Greenwich (and other museums) have some of these busts in their collection. The Nelson bust appears not often on the market, obviously a limited number was produced only. For more information about this bust see also the book by Paul Atterbury "The Parian Phenomenon" published by Richard Dennis in 1989.

Parian Bust of Lord Nelson, ca. 1865-70

* Photo Copyright is with the FineArtEmporium *
Presented by the FineArtEmporium in Hamburg.


Following are shown some more photos of the bust:
*
The lower medal in the middle is the one inscribed with "Nile, 1. August 1798".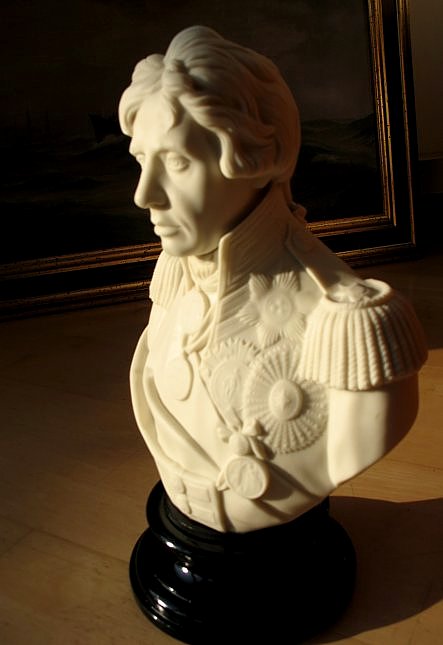 *
The last photo shows the bust in situ, standing on an antique English Mahogony Bookcase. This also illustrated the size compared with books, glasses etc. The bust itself is mat - as usual with Copeland Parian Porcelain - while the wooden socket is of shining (repainted) black color which produces a nice contrast. Busts like this were a common decoration item in upper-class early to mid Victorian houses. This one originally came out of a maritime home, once belonging to a Naval Sea Captain.