antique Ship Portrait of the Scotish Barque "Gostwyck" on high sea 1905 - the vessel is shown under reduced sails in open waters - Oil on canvas, 20 by 29 inches (51 by 74 cm) canvas size - signed by Reginald Arthur Borstel (1875-1922, Sydney & Adelaide N.S.W.) for Adelaide Photo Company and dated 1905 - condition: see photo, in a recent frame - Asking price (collected in Dundee, UK): Pounds 900 (convert to your currency), shipping might be possible

Note: (in German) - Antikes Schiffsporträt der schottischen Bark "Gostwyck" 1905 - von Reginald Arthur Borstel (weitere Angaben zu dem Künstler s.o.) Öl auf Leinwand, ca. 51 x 74 cm gemessen ohne Rahmen - Zustand: siehe Abbildung, neuere Rahmung aus 1980 - Preis: Pfund 900 (bei Abholung in Schottland), ob ein Versand möglich ist müsste mit der Eigentümerin abgeklärt werden, bei Fragen kontaktieren Sie uns gerne

Reginald Arthur Borstel
(Australian, 1875-1922)

* Photo Copyright is with the owner * offered subject to prior sale by Private Owner in Dundee, Scotland, UK *
Please find here additional information about the vessel "Gostwyck":
which was (following information on above site): built as a steel barque by McMillan & Sons Ltd., Dumbarton in 1904 for George Milne & Co. (Inver Line) in Aberdeen, Scotland and measured at 1827 tons. Under the name "Gostwyck" the vessel sailed from 1904 until 1906, afterwards it was renamed "Inverlyon".
Portrait of the Bark "Gostwyck" at sea by R.A. Borstel in 1905 - Oil on canvas
Presented by the FineArtEmporium in Hamburg.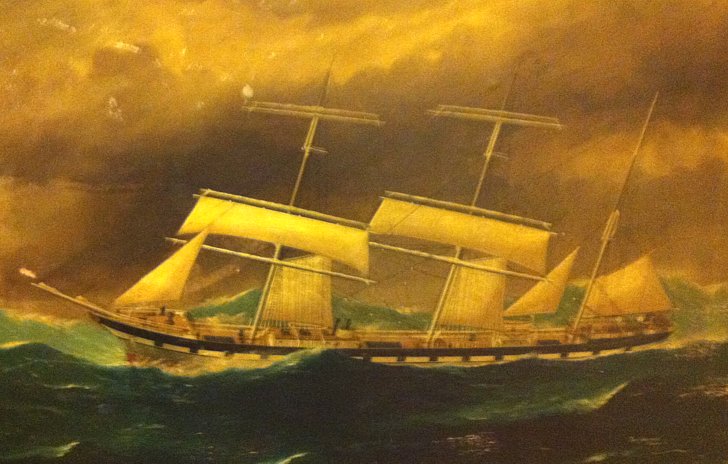 *
This was one of the typical, large Windjammer blue-water sailing ships - built for the long run down under to Australia and New Zealand or to Southern America. These large sailing vessels were still able to competite with the steamers as they sailed without coal (which was costly in 1905 for long vovages) and did not need to stop many times to load coal as the steamers. So in the trade with wool, wheat and other bulk goods they still had an advantage.
This offer is valid for Europe only. Payment is possible by COD at collection. Bank (wire) transfer is possible if shipping is agreed.
Any questions are welcome, please send your e-mail to: bais(at)gmx.de - This description has been written by Mr. Karsten Buchholz. We are also available at the phone from Europe 0049-4104-694710 or in Germany (Deutschland): 04104-694710. As always, this offer is subject to prior sale.