Sale by Private Owner in Norway: Yachting Scene during the International Regatta Kiel, ca. 1895, in the foreground a Sailing Yacht from the Hamburger Yachtclub (ensign on top of the mast) on the Baltic Sea, most likely during the "Kieler Woche" Regatta, another Yacht and other vessels in the background - Oil on canvas - 42,5 x 62,5 cm (16 3/4 by 24 1/2 in) - good condition, repair and inpaint in the right sky section, lower right age craquelure, not relined - very nice period gilted frame - sold

Note: The Hamburger Yachtclub was founded in 1892 and later became one of the most important sailing clubs in Northern Germany. It still exist today and has changed the name to Hamburger Segelclub. Yachting paintings in oil on canvas from this period are rare. This is a desirable example with a scarce yacht type from the golden years of sailing end of the 19th Century.

Yachting Scene on the Baltic Sea
(Germany, ca. 1895)

SOLD - * contact the owner via the FineArtEmporium at:

bais(et)gmx.de

*
Presented by the FineArtEmporium in Hamburg
Provenance: The property of a Private Collector in Oslo
Yacht of the Hamburger Yachtclub of 1892 under full sail in the Baltic Sea, most likely during the International Regatta "Kieler Woche", ca. 1895 - Photo Copyright is with the FineArtEmporium.
Here is a view with the valuable 19th Century gilted and engraved frame:
The above full view with the frame is the best picture available from the painting. It shows also the nice handling of the light and sea.
Another view of the painting without the frame: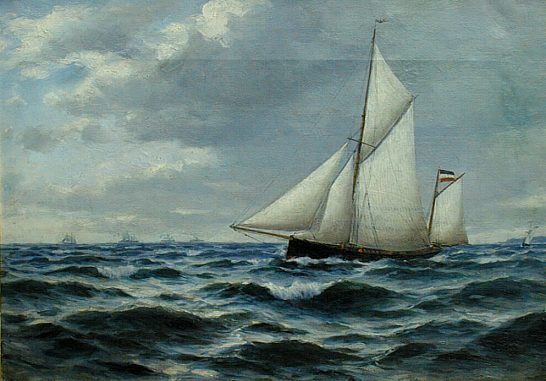 Here now the first detail view of the Yacht with the fine details of the hull and in the sails. The second yacht is visible in the background:
and a second detail view of the background vessels at the left side:
and another more close-up view of the yacht itself: + (right photo) and finally a picture how the back of the painting looks like (no relining):
*
This is a nice piece for the experienced collector who wants to have an oilpainting in his collection of one of the rarely painted and highly sought after 19th Century Sporting Yachts with their special charme. The unique type of this yacht - a cutter-bow Yawl, with the second mast at the end of the hull and the back sail placed outside over the water - which was built for sporting purpose only in a short period of time (mainly around the 1880s) - adds another appeal to this beautiful and historically important oilpainting. The price mentioned included shipping to Europe.
The owner is a well respected lawyer in Oslo so the required prepayment by bank transfer is an absolute safe method of paying this painting.
To get in contact with the owner please inquire via us at: bais(et)gmx.de - This description has been written by Mr. Karsten Buchholz. We are also available at the phone in the morning of US time at no. 01149-4104-694710 or from Europe 0049-4104-694710 or in Germany 04104-694710. As always, this offer is subject to prior sale.
Suchworte / Search words: alte Segelyachten, Marinemalerei, Marinemaler, marine art, Gemälde, painting, maritime, sea, Hamburg, sailing, paintings, for sale