| | | |
| --- | --- | --- |
| | Examples of Nautical and Maritime Antiques for Research and Education | |
Large Secretaire Campaign Chest by Ross of Dublin, last quarter of the 19th Century - Maritime or Military Chest with three long and four small drawers (dovetail construction) plus secretaire case - in two parts - solid oak, maple and other wood, with original brass fittings and drawer handles, secretaire case with leather writing plate - 112 cm (44 in) large, 118 cm (46 1/2 in) high and 50 cm (c. 20 in) deep - maker`s stamps by Ross in the drawers - small repairs, otherwise original condition and Patina - Private Collection Northern Germany

In German: Wertvolle und grosse Maritime Sekretär-Kommode mit drei langen und vier kleinen Schubladen und Sekretärfach - in zwei Teilen - gebaut von E. Ross aus Dublin, Irland im letzten Viertel des 19. Jahrhundert - Eiche, Ahorn und anderes Holz, mit originalen Messing Beschlägen und versenkten Messing Griffen - 112 x 118 x 50 cm - einige Gebrauchsspuren, sonst originaler Zustand und Patina (behutsam restauriert) - Ross war im 19. Jahrhundert der berühmteste Hersteller von sogenannten Campaign Furniture für die Upper Class im Britischen Empire. Jedes Stück wurde individuell für den Kunden angefertigt, zu denen seit 1864 auch H.R.H. the Prince of Wales gehörte. Dementsprechend sind seine qualitativ hochwertigen und ausgefallenen Möbelstücke heute sehr gesucht.

Irish Campaign Secretaire Chest by Ross of Dublin

* Photo Copyright is with the Fine Art Emporium
Presented by the FineArtEmporium in Hamburg.
Provenance: a Family of Irish origin in Timmendorf (Coastal Northern Germany).


Following are shown some more photos (this one taken at sunshine):
Following photo has been taken at rainy weather conditions: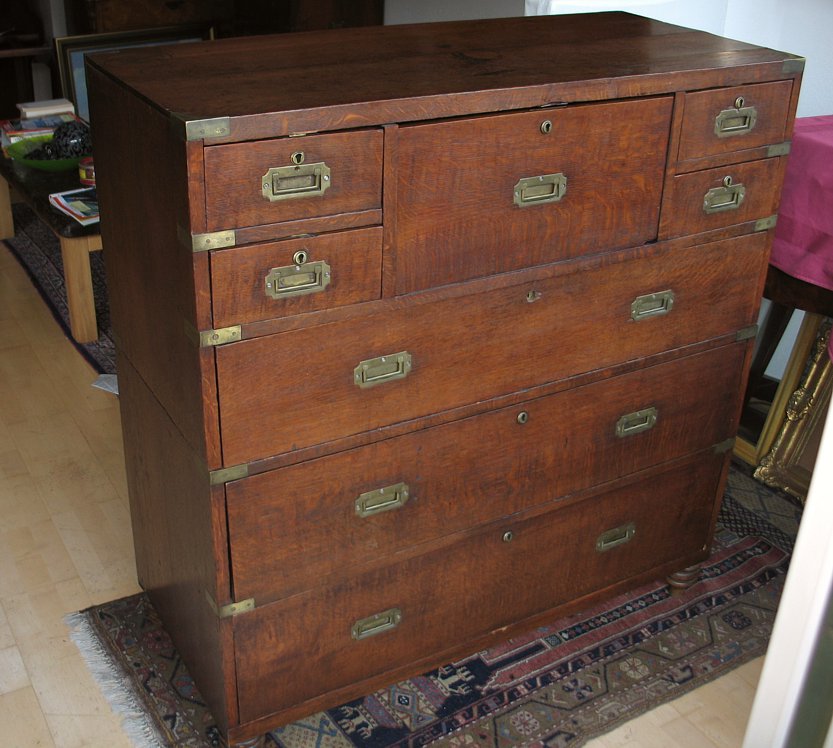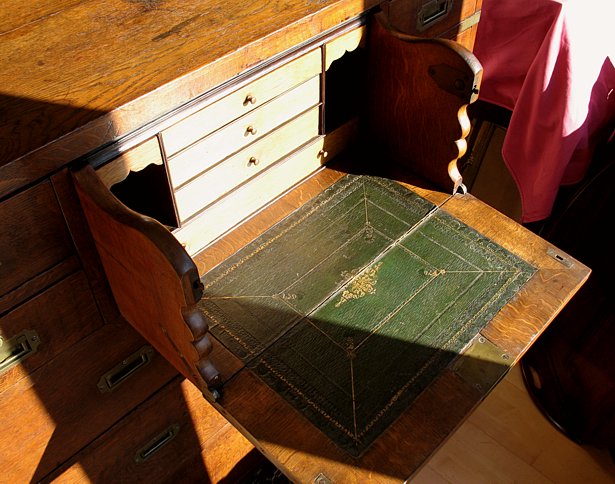 *
The secretaire in the middle contains one long and three shorter drawers, two pigeon holes (right and left) and two hidden (secret) drawers above of the pigeon holes. All these have been veneered with Maple. The original green leather of the writing plate has gold decoration and shows some stronger signs of use. The inset brass handles at the drawers and the brass bound edges are typical features of such Marine Campaign Furniture. The drawers have a dovetail construction for sturdy durability. The execution and size of this campaign chest suggests that this furniture was built for an high ranking person, such as an Commodore, an Diplomat or Admiral - a hint from the previous owners were unfortunately not available. As usual with furniture by Ross (& Co.) of Dublin this chest shows a magnificent quality and execution. In fact Ross is considered as the most famous and innovative manufacturer of Victorian Campaign Furniture not only in Ireland but in the entire Empire (continued below)...
*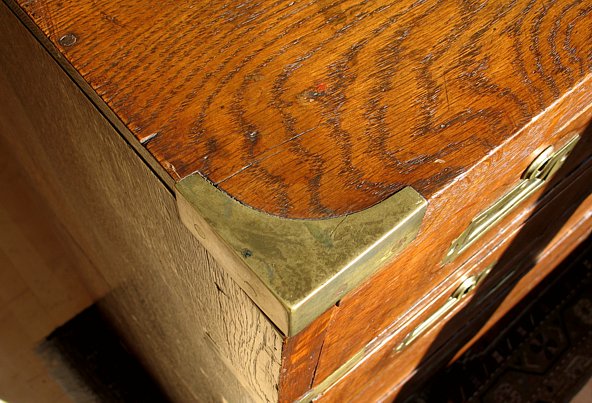 *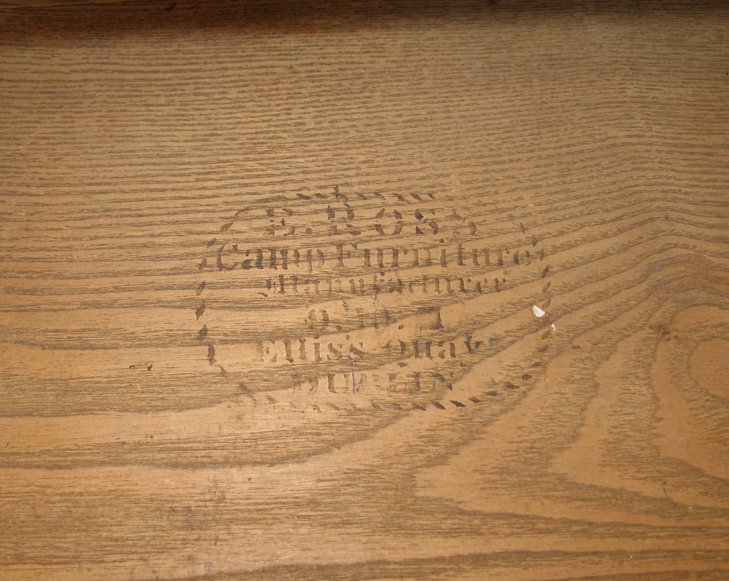 In den large drawers can be found the sign of "E. Ross - Camp Furniture Manufacturer - 9/10 Ellis`s Quay - Dublin". The company was founded around 1821 and they closed their business in the first years of the 20th Century. For more details about Ross see the longer Article by Sean Clarke and Nicholas Brawer: "Ross of Dublin - The Victorian Army`s Cabinet Maker of Choice" published Summer 2004 in the magazine "Ireland`s Antiques & Period Properties" and in general about this matter the book "British Campaign Furniture - Elegance under Canvas 1740-1914" by Nicholas A. Brawer, published 2001 by Harry N. Abrams.