Shipping in the Harbor of Ostend with a French Barque approaching, by Franz Hünten 1857 - with the old Pier and Lighthouse on the right, in the foreground a rudder boat is pulling out and on the left side a Flemish Smack is landing at the opposite Pier, another Schooner is heading out of the Port, numerous persons in marine clothings of the period are shown - Oil on canvas - signed "F. Hünten" and dated 1857 lower left - 53 x 71 cm (21 x 28 in) and with frame 62 x 79 cm (24 1/2 x 31 in) - in a 20th Century golden frame (not the best frame) - Price (incl. s&h): EUR 5850 (convert currency)


Note: This painting was found in the original condition from 1857 (happens very rarely). It was dirty and had two small (coin size) damages - on the left pier and on the right in the water. After it was professionally cleaned and after the two areas had been restored it received a new varnish and is ready to hang for the next 150 years. This painting has not been "overrestored" - it still shows a good Patina, eg. there is craquelure and there are light age signs.

Franz Johann Wilhelm Hünten (German, 1822-1887)
Presented by the FineArtEmporium in Hamburg.
An early and highly sophisticated work by the artist, who was trained at the Academy in Duesseldorf by Hermann Mevius and Prof. Johann Wilhelm Schirmer. He travelled already early in his career to Holland and Belgium and got there inspirations for his marine paintings. This painting shows very typically the influence of his education and could easily be confused with an early work from a Duesseldorf School marine artist such as Andreas Achenbach. Hünten exhibited in Germany and abroad since 1851 and is represented in several important museums, such as the Kunsthalle Hamburg.
Following are shown more photos of the painting:
This photo above shows on the upper left side several light reflections, which are representing the natural view of the painting.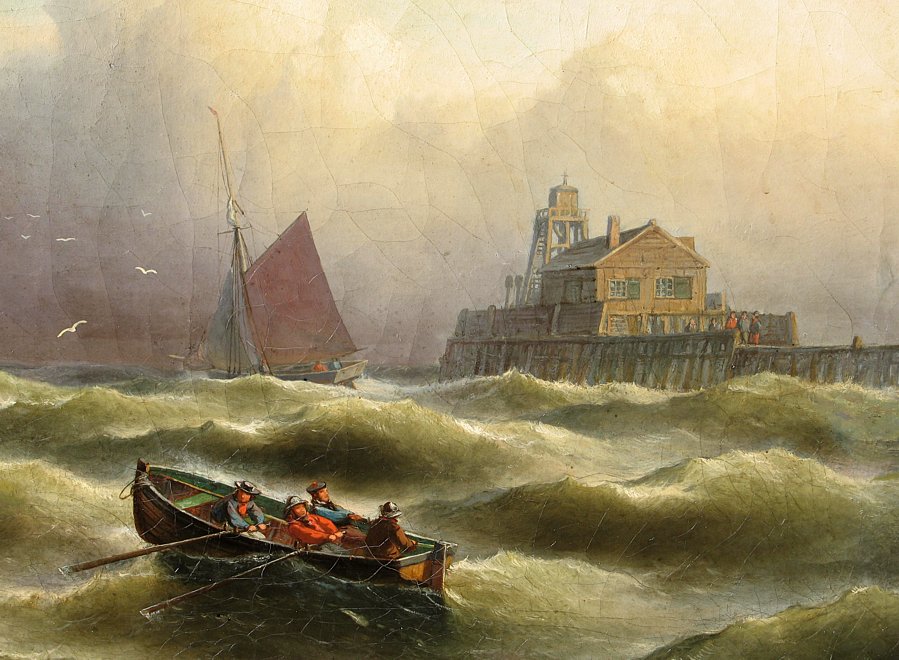 and following below the signature and the back of the painting (original canvas, not relined):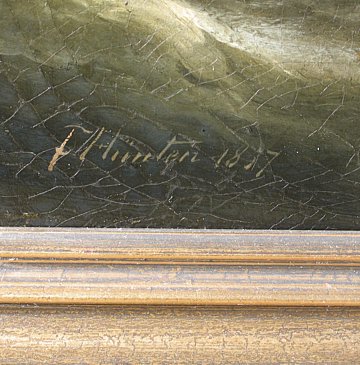 *
This fine oilpainting from the golden days of the sailing ships by Franz Huenten is an excellent addition to your private or office marine art collection and offers great quality at a moderate price. This offer includes expert packing in a wooden box, all necessary export / import papers, shipping by Fedex Intl. Priority to your door and separate insurance. This offer is valid for the USA and Europe (other countries on request), but not in Germany. Payment is accepted by bank transfer.
Any questions are welcome, please send your e-mail to: bais(at)gmx.de - This description has been written by Mr. Karsten Buchholz. We are also available at the phone in the morning of US time at no. 01149-4104-694710 or from Europe 0049-4104-694710 (in DE: 04104-694710). Please note that an order can only be placed by email to avoid mistakes with the address. Collection and Payment by cash Euros or in Gold/Silver is also accepted. As always, this offer is subject to prior sale.
We had before another painting by this artist showing this motif:
Shipping in the Harbor of Ostend with a fishing boat arriving, a larger ship in the background and several persons on the pier, from the 1850s - signed lower right "F. Hunten" - Oil on canvas - 51 x 72 cm - large original period Gold frame (22 carat real gilted) - very good condition - Private Collection Continental Europe (not for sale).