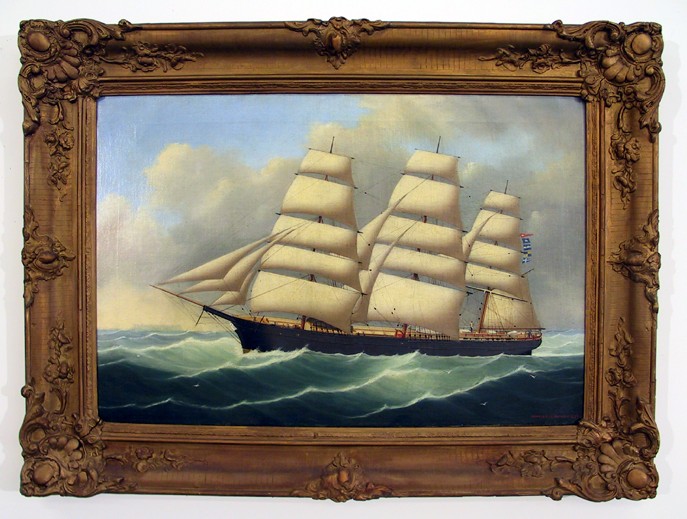 John Loos - Portrait of the Canadian full-rigged Ship *La Gloire* in 1862 - signed and dated
Presented by the FineArtEmporium in Hamburg.
This is an early painting by John, the best known artist from the Loos family in Antwerp. The ship is shown in the English Channel near the white cliffs of Dover and Calais. This background was often used by the Loos family since it was an important landmark for vessels heading to the Continental ports such as Antwerp, Amsterdam, Bremen, Hamburg or Copenhagen. Often the Canadian vessels are hard to identify as been from Canada because they show the same ensign as the British merchant vessels and only a reference to old shipping lists and insurance registers (eg. Llyods or Veritas) tells us about the home port. Further on many Canadian ships and barques were sold immediately (if they have not already been commissioned) to US-American and European owners, which makes the identification sometimes difficult. Shipping companies all over the world were delighted about the reliable, solid but also quite fast wooden vessels built in Canada which lead to many sales of used Canadian vessels as well. The "La Gloire" is a typical representative of such a quality ship made in Nova Scotia.
Here is an image of the painting without the frame:
and an enlarged detail view of the bow (with the ship`s name):
and finally an enlarged photo of the back of the ship and the artist`s signature: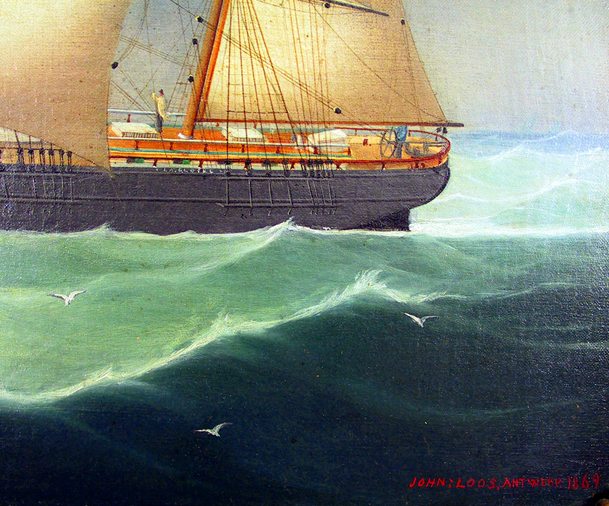 ---