| | | |
| --- | --- | --- |
| | Art Gallery of Old Ship Portraits and Marine Paintings | |
Ship Portrait of the Royal Yacht Squadron Schooner *ZARA* ca. 1874 - the large sailing yacht is shown under full sail at moderate sea in the Bay of Naples with Vesuvius and Sorrent in the background - Gouache on paper, ca. 40 by 50 cm (16 by 20 inch) image, with frame 58 x 66 cm (23 by 26 inch) - signed "L. Roberto Naples" and inscribed with the name of yacht - light age signs, otherwise ok / good condition (no dark dust stripes) - period maple frame and under old glass - Oporto Collection Portugal

Note: Luigi Roberto is - beside of the De Simone Family - the best known Ship Portrait Artist who worked in Naples and produced detailled portraits of the sail or steam vessels and yachts which visited this Italian port. The Gouache technique is typical for the Italian ship portraits of this period and in contrast to watercolors the appearance of Gouaches is brighter and the colors are opaque.

Luigi Roberto
(Italian, fl. 1874-1891)

* Photo Copyright *
Presented by the FineArtEmporium in Hamburg.


Following are shown some more photos of the painting (with reflections due to the glass):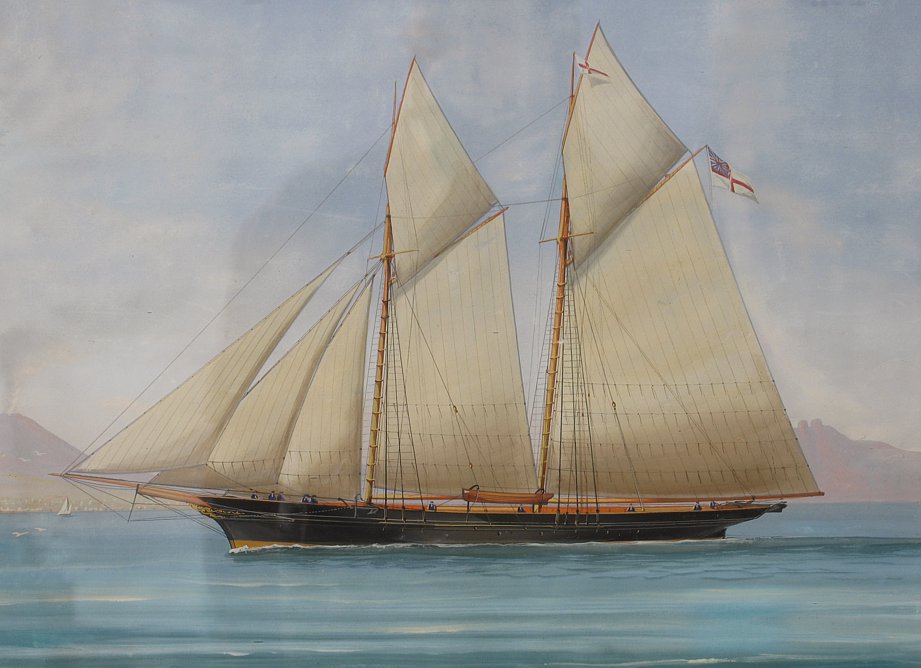 *
and a detail photo:
*
*
The Yacht shows the ensign of the "Royal Yacht Squadron" (RYS) and the white British flag. It is known that the Commodore of this famous yacht club (Lord Wilton) built in the 1850s a large Schooner with this name to competite against the "America" in the America`s Cup. We are currently researching more information agout this sailing yacht to confirm the identity. This is in any case a quite large yacht, measuring about 45 Meter (ca. 135 ft.) and this is a fact which gives special attraction to this antique yachting painting. The artist Luigi Roberto is represented in numerous Maritime Museums around the world, eg. in the Peabody Museum Salem (USA), Bergens Sjöfartsmuseum (Norway), on the Cutty Sark, Greenwich (UK), in the Mariners Museum Newport News (USA), in the Mystic Seaport Museum (USA), in the Maritime Museum Troense (Denmark), in Italian and Spanish Maritime Museums, in the Sjöfartsmus. Gotenborg (Sweden), in the Philadelphia Maritime Museum (USA) and in many other collections. His yacht portraits appear only occasionally on the market, most of his portraits show merchant sailing ships and steamers.


This picture is under the old 19th Century glass. This antique glass was found to be sealed at the edges with the passepartout to protect the painting from dust.
*
---