| | | |
| --- | --- | --- |
| | Examples of Nautical and Maritime Antiques for Research and Education | |
High Quality Half Hull Steamer Model from Russia, early 20th Century (before 1917) - the working model has been constructed with a 13-layer lamination of medium and dark colour Hardwoods (Sandwich Construction). The wood has been carved very carefully and using highest standards. It was fitted for direct hanging on the wall. - dimensions of the model are 120 x 19,5 cm (47 1/4 x 7 3/4 in) and about 11,5 cm (4 1/2 in) deep, weight ca. 10 Kilo - marked on the backside with the Imperial Russian Eagle and the letters "R. N." and no. 12 - cleaned, small areas of wear, light scratches in a few places, small (old) repairs - in good condition and with original patina - Oporto Collection Portugal

Note: This is a typical "pre-construction model" or so called "dockyard model" with was for internal use of the ship designers and builders. This excellent and well crafted Russian model is supposed to be from the St. Petersburg Dockyard, the Eagle with the double head and crown was the sign of Tsar Alexander III and pre-Revolution Russia (before 1917). Unfortunately most of such models got lost or destroyed during the 20th Century, because in earlier times (until ca. 1970) they were often not - as today - considered as interesting and valuable Nautical Artifacts from the Maritime Heritage.

Half Hull Shipmodel
Imperial Russian Dockyard c. 1910

* Photo Copyright *
Presented by the FineArtEmporium in Hamburg.
Provenance: Private Collection of an old Hanseatic Family


Following are shown some more photos of the model (taken in full sunshine):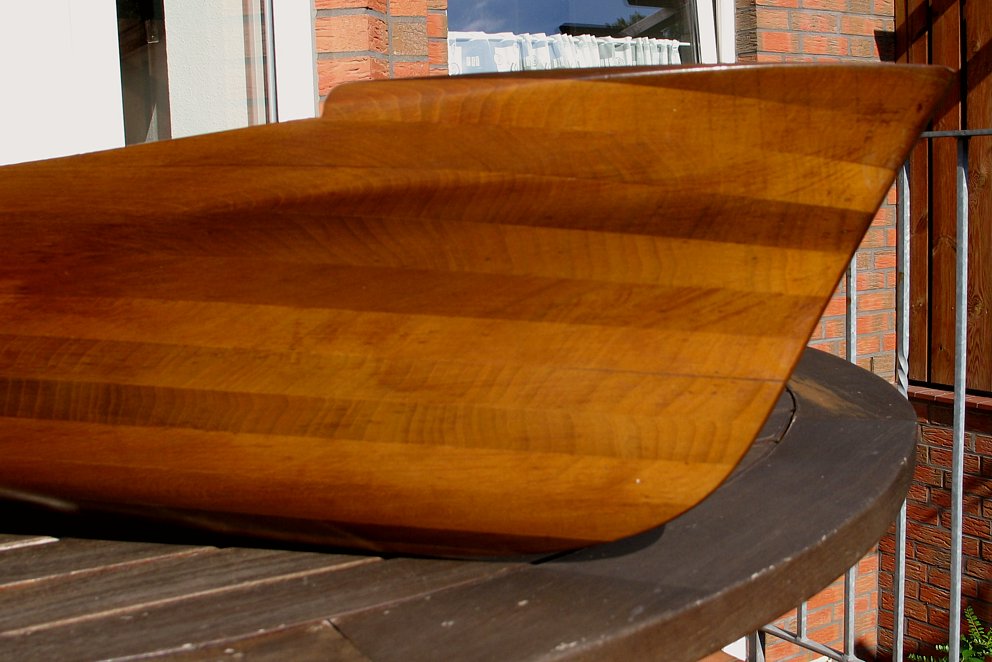 *
and some more photos:
See here the Imperial Russian sign on the backside. This is a very well done model - as it can be expected from a piece done in an Imperial Dockyard which had to be suitable for presentation and discussion of building with the Admirals and/or Tsar Alexander.
Please note the elegant lines (form / design) of the vessel which can be seen best on this photo.